Shopping Cart
Your Cart is Empty
There was an error with PayPal
Click here to try again
Thank you for your business!
You should be receiving an order confirmation from Paypal shortly.
Exit Shopping Cart
Louise Mathewson - Author & Poet
"A gem is not polished without friction, nor a man perfected without trials." Proverb
| | |
| --- | --- |
| Posted on January 22, 2013 at 7:25 AM | |
It's a special day today, 1/22/13!  It is now ten years after a day that changed my life in ways I could never have imagined, even if I used all my psychic intuition. The date held a kind of message, like getting ready for take off.  1, 22, 3 - you can imagine what numerologists might have to say about a sequence of numbers like that!
Every January for the last few years we have come to Siesta Key and stayed in a condo right on the ocean, where every day I got to walk the shores of the ocean, while letting the waves play with my feet!   Oh the joy, on a sunny day, getting to feel the medicine of the ocean right on my body, as every so often, a wave jumps up on my calves like an eager puppy!
In past years, I have often felt like I hadn't earned this treat. But this year, I had an epiphany as I reflected that a special anniversary date was on the horizon for me, with all the color of a glorious sunset. This year, in the two weeks before, I felt an incredible joy and gratefulness that we get to celebrate every year with the ocean at our sides, that I came back to life, in a sense resurrected, after being so close to death.
So this year, I plan to celebrate that after being so near death, I am alive, able to enjoy my two wonderful little grandsons, watch my children continue to grow in adulthood, and age with my husband at my side while enjoying life, the ocean, writing, and meeting new people!! And I have a new book out, a memoir in poetry, "A Life Interrupted: Living with Brain Injury!"  I never planned to write a book, but then, I didn't plan on a traumatic brain injury either.
However, a couple days ago, forgetting that today was THE day, I woke with a feeling of lead in my veins.   My arms, legs and body felt very heavy, reminiscent of the waves of depression that are often part of my healing journey.  At first, I was confused, because I didn't feel sad at all.
Then I asked, "what's the date?"   I was a little worried that I had missed my anniversary. When I realized the anniversary was still two days off, I knew my body was remembering the trauma.  A few tears clouded my eyes, but no rivers, as in years past.  Yes, a memory that will always be a part of my life, a memory that I do not wish to discard, but rather befriend and accept.  There are treasures in this experience that have changed my life hugely!   One of those treasures is that I now write poetry, and have a book.  I know that writing, especially poetry, which gets at the heart of an experience, healed my broken heart!
I bought this pin for my family, who suffered the most while I was in the peace of a coma.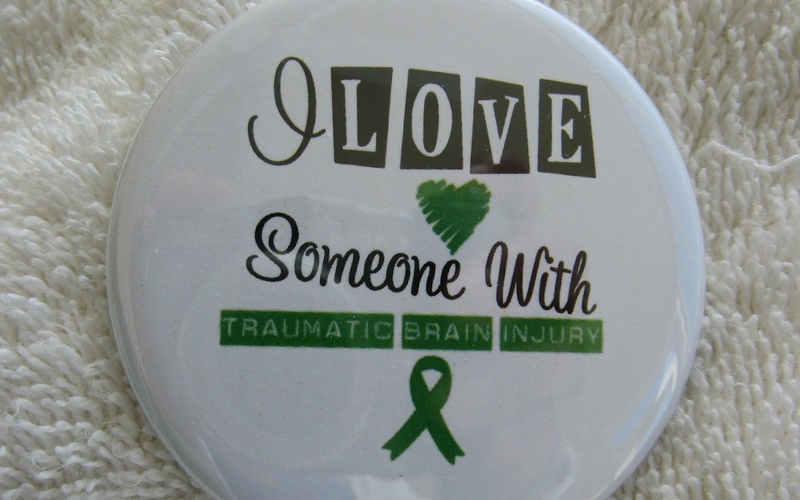 You can get one or similar ones at zazzle.com.
Yes!  I, too, love someone with a traumatic brain injury - ME!!!
Even though I may still have ups and downs, the ride is much less bumpy than it was in the early years.   I've worked hard to get here, and you can too! What is the hardest part for you? Have you tried writing?
Categories: TBI, Writing to heal, Grief after TBI
/