Shopping Cart
Your Cart is Empty
There was an error with PayPal
Click here to try again
Thank you for your business!
You should be receiving an order confirmation from Paypal shortly.
Exit Shopping Cart
Louise Mathewson - Author & Poet
"A gem is not polished without friction, nor a man perfected without trials." Proverb
Can you believe it?  It's February in a new year already! As we have stepped into a new year, some well-meaning people might ask us "how are your New Year's resolutions going?" Many people bow their heads, look to the side with a lopsided grin, their tone of voice falls and…you know how it goes.
I made a resolution a few years back to not make resolutions any more, and I'm doing great!! (Read my story) Instead of resolutions, I now make wishes!!
My first wish for myself this year is a good night's sleep!!  Many with brain injuries have sleep probems. More on that in a couple weeks. My second wish is that I get more regular about blogging. I'm leery of tying myself to any specific time table because, with a traumatic brain injury, it all depends on my physical resources, how I feel, and/or what I might be stressed about, on any given day. That's another story, (resources after TBI), in a future blog!
A couple years ago I took a blogging class online with Susannah Conway! It was fantastic!! I loved it!!! I love all her classes! (if you don't know about Susannah, I highly recommend all her classes.) However, when it ended I floundered for a while, with a lack of community and accountability, and then life stresses intervened. The longer I was away, the harder it was to get back. My confidence washed away into an ocean of fears…exposure, imperfect writing, exposure, a blank mind, exposure, insecurity about the value of my work, exposure, lack of organization, and once again exposure.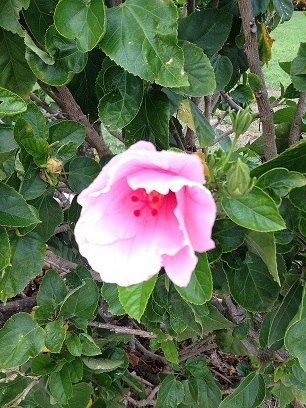 As you can tell, fear of exposure is a big one for me. As an oldest child in a troubled and dysfunctional family, if I didn't do the adult thing from 2+ years on, my little mind told me I had failed. So shame and fear became my constant companions. I don't like to be on any kind of stage. A traumatic brain injury magnified my insecurities. Blogging is for sure a public stage. (In a few weeks, I'll tell you about my first "stage" experience.) If you could see how many times, I've revised this post, you'd laugh, or you'd commiserate!
I'm an introvert and really don't mind being alone.....most of the time. My mind is full of memories, ideas, things to think and feel about. My imagination has lots of juice, and nature gives me so much joy! I've devleoped a love of taking pictures, because it's another form of expression, and for the story and wisdom nature often gives us.
So I'd like to say I'm back, but I kinda don't trust follow-through, you know, with the challenges that a brain injury has given me!
What are your wishes, dreams, or resolutions for yourself in this New Year?
Phtoto Credit: Louise Mathewson
It's fall, and once again, I feel like I'm falling down a rabbit hole into the dark. This is the season of cooler temps in Florida. So I can get outside much more in the middle of the day. That should be good. However, I still feel like I'm entering a dark hole. Maybe it's my moody injured brain, maybe it's age, maybe...maybe...maybe....
In Chicago, (where I grew up) this is the season of warm, lively, feel-good colors. We moved from Minneapolis two years ago. There I used to take a daily walk on fall mornings. This time of year crimsons, reds, oranges, and golds just glowed on the trees as I walked down the street. I am sad that fall colors are nowhere to be seen in Florida. The adventure of a new landscape is wearing off now. Lucky me, I get to see fall colors at least on Facebook.
Days are shorter now, even in Florida. I talked to a couple people this week who also feel lower in mood. They also both reported having low moods every fall. Just last week, I read an article that said sensitive people who find themselves feeling low this season, are in tune with the energy of the season. (Oh my gosh, how sensitive I am after a traumatic brain injury!) Nature winds down as it prepares for dormancy.  Well, my energy is winding down too, and I find myself more reflective about another year of my life.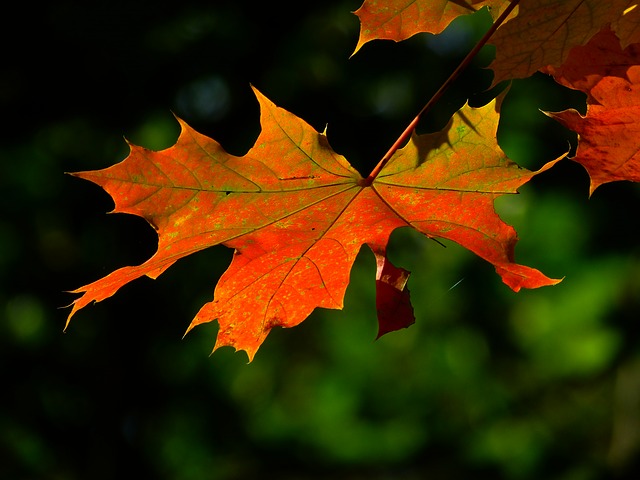 As I thought about the beautiful colors up north this time of year, I challenged myself to remember the gifts in my life of this past year.
This year holds memories for me of travel in February, March, April, May, June, July, and September. I got to see family, and to reconnect with a dear cousin in Chicago, who I haven't seen in 30 years! Then I got to see old friends and family in Chicago and Minnesota, and friends in Boulder. I also got to travel to New York and see both grandsons for their birthdays! My daughter and her family came down over spring break. What fun to plan ocean activities for the boys! We also went to Key West to see my son, (on a mini-sabbatical), and his wife, and adorable Chiweenie, Angel. She is quite the angel!  Key West was quite wonderful to see! There my husband and I were introduced to key deer! Magical creatures!
In September, I was able to attend my 50th high school reunion at Oakbrook Hilton Resort. I saw old classmates I haven't seen since graduation!  What a thrill to reconnect with those who knew me back when...! It was life-changing!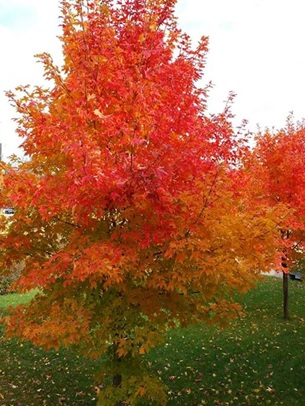 Photo Credit: Mary Lehmann

However, I don't miss the cold. I don't miss the long winters. I don't miss snow...much. I don't miss very short days. I don't miss being inside for 6 months of the year in Minneapolis. I don't miss slushy parking lots. I don't miss driving in the snow. I don't miss my fear of slipping on ice. I don't miss skidding to a stop. And I don't miss feeling trapped inside, one single bit.
I do miss autumn walks on sunny days. I miss seeing a colorful array of leaves dressing the trees. I miss leaves decorating the grass and sidewalks. I miss hearing them crunch underfoot. I miss the crisp fall air. I miss wearing layers of fleece. And I miss lighting our fireplace.
I miss the smell of burning leaves from when I was a child. I miss raking leaves with our kids to jump on and roll in. I miss making soups and stews for dinners. I miss wrapping up in a blanket in front of the fireplace, and watching a good movie with my husband.
I miss my kids, a whole lot. Now my tears start. The rabbit hole is a good place to let tears fall.
What does the fall season mean for you? 
I woke up with one of those icky moods that perhaps only a person with a brain injury and PTSD knows - dark, meaningless, I didn't want to talk to anyone, didn't want to hear a male voice, (I live with my husband, so that's a problem, right there), I just wanted to be alone. I thought about going to yoga, but the appliance repair man was on his way and my husband was in a meeting in his home office, so I was tied to the inside.
After the repairman left, I decided to take my phone (with piano music-my absolute favorite sound EVER!-on Pandora) and go for a walk by the ocean where the best kind of ions, (negative) float in the air. I hoped those negative ions would help my brain.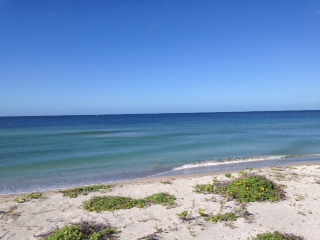 Photo Credit: Louise Mathewson
I wasn't sure if it was my injured brain causing trouble, or my adrenals, (somewhat fatigued by too much stress), or my auto-immune thyroiditis, otherwise known as Hashimoto's, the fall season with less light, our condo being in a state of dis-ease from renovation work, the Cubs losing twice to the Mets, or that I am still grieving over leaving the Midwest, the Heartland, where I've lived most of my 68 years. Or it could be all of those ganging up on my brain creating havoc. I just knew I needed to get out, away from this space.
On my walk, I thought about a book, This I Know: Notes on Unraveling the Heart  by Susannah Conway, I read a few years ago, when moods were at their worst. Back then I couldn't get myself to go outside and take a walk, which I knew was a healthy thing to do. Susannah wrote about taking photographs outside during her journey with grief. Back then I was game for anything that might help a mood take the high-speed train to Mexico! And I knew I liked to take pictures. So out I went, and I have to say, it was magic, pure magic!!!
I now had a new way to deal with moods that actually worked! Supplements, writing, meditation, changing my thoughts or neuroplasticity, (screw it!) do not yet work for MY limbic system with low blood flow. That means too little oxygen and nutrition get to my limbic system (basal ganglia, thalamus, cingulate, insula.) (I didn't make this up, it's from a neuropsychiatrist's report of spect-imaging of my injured brain.) Believe me, I've done enough research I could write a book, but my memory and cognition, (damaged areas of my brain) aren't in good working shape for composing all this abstract stuff into a coherent - aww, just too much work and stress!
On my mission, a walk to the beach, I saw 3 ibis' on a fence by the inlet, and took my first "snap" of the day!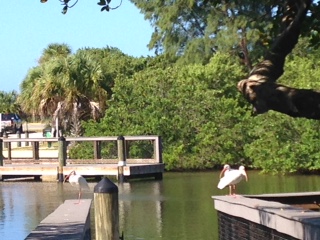 Photo Credit: Louise Mathewson
With my new-found eye I kept my eye out for more to shoot. I got to the beach and the water was beautiful on a windy day (an easterly wind makes the ocean calm - I note the diametrical opposition in nature.) I had to take a video '20 seconds of gulf peace', followed by shots of the beautiful blue, then a shot of yellow daisies at the edge of where the ocean 'took a bite out of the shore' and where an egret stood on the water's edge.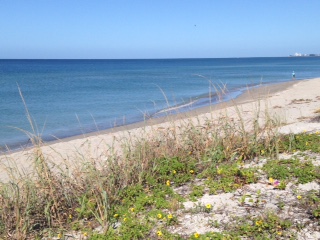 Photo Credit: Louise Mathewson
Next, two deserted beach chairs, blue and green, grabbed my attention, followed by yellow daises with a water background. A little farther on more yellow daisies, rosy-mauve flowers and tall grasses with the ocean blue in the background, and I'm in heaven, totally distracted away from my dark mood! Being out in nature taking pictures, being able to focus on something besides my uncomfortable 'safe place' (aka home) helped my mood lessen. What a gift from Susannah's book!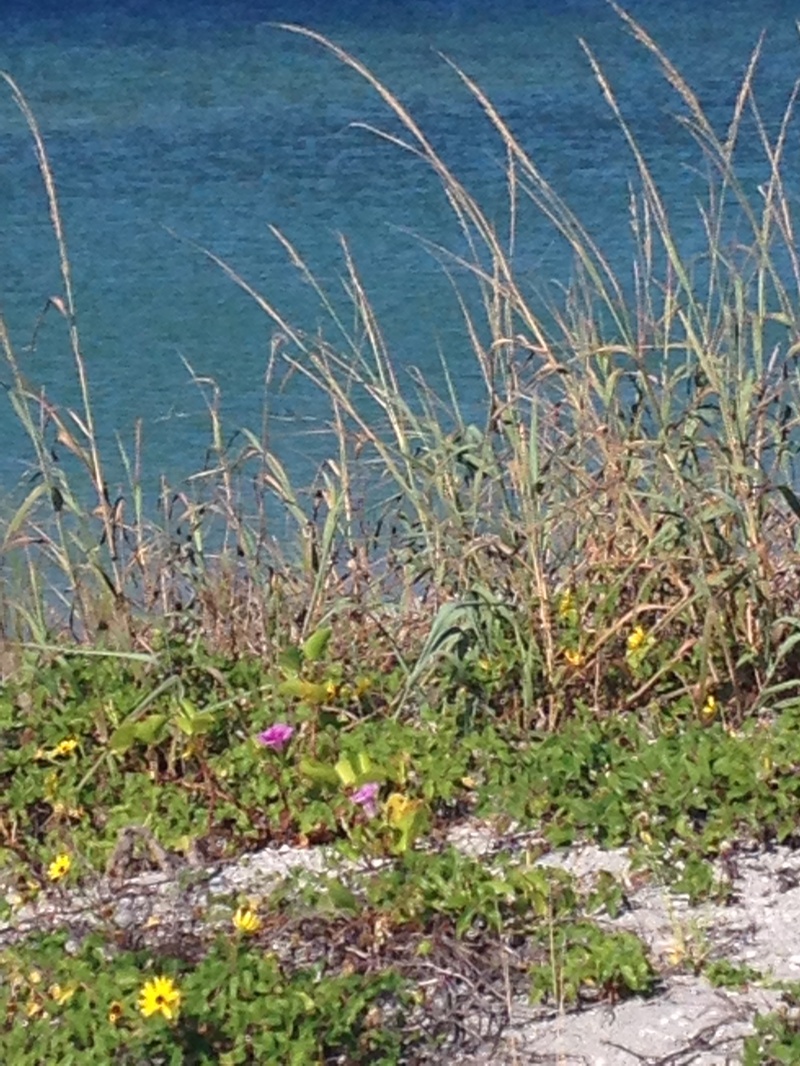 Photo Credit: Louise Mathewson
On my way back, I saw an artist painting hummingbirds, and her version of magical fish. They look a little like lion-fish, mostly blues, with some orange, yellow, and red on the hummer's chest, just gorgeous!  We talked enough for me to learn she is an environmental activist, who is down taking care of her elderly parents. She comes to the beach every day to walk or do her art. She wants to write something poetic about how we are harming the ocean, to go along with the creations that she sells.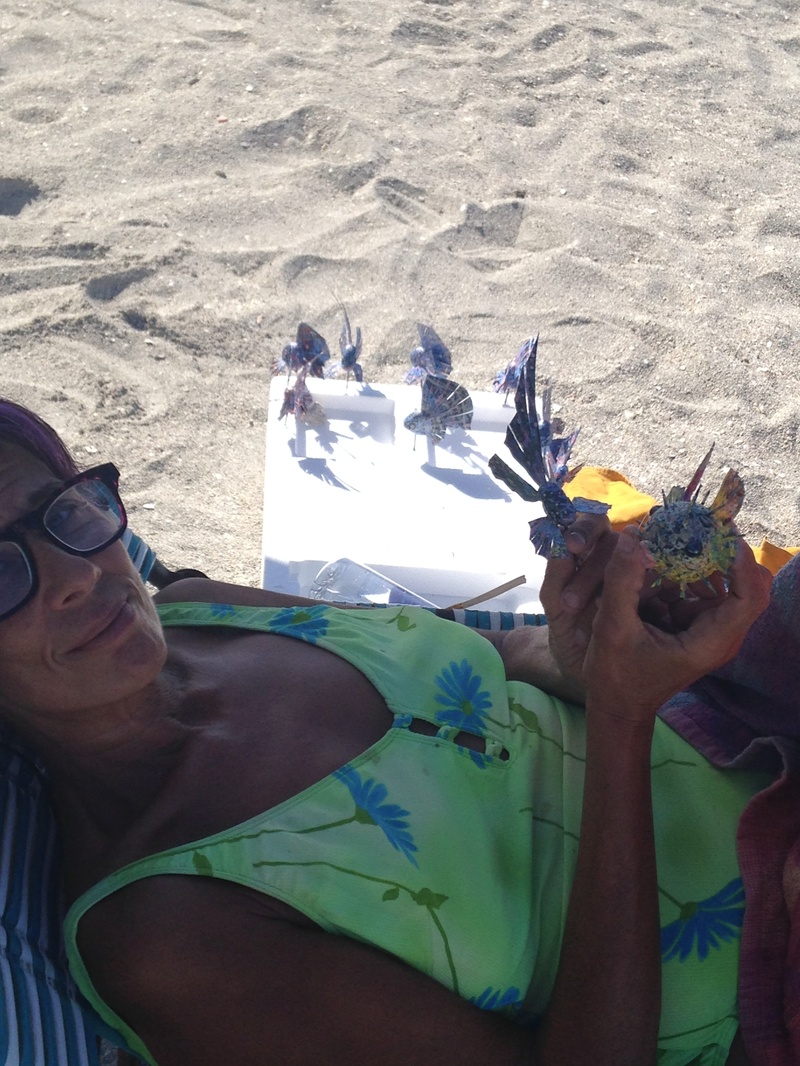 Photo Credit: Louise Mathewson
I made a connection with an artist on the beach. Connecting with someone with similar interests also brought me joy!
This morning FB friends and a left-brained actuary just weren't helping my mood - I needed the real thing, nature and connection. Through taking pictures as I walked the beach, I improved my dark, unfriendly mood. It didn't heal the adrenal issues I have, my auto-immune Hashimoto's or the brain injury, but I felt better and I could write this!
In honor of Brain Injury Awareness month I wrote a Loving Kindness Meditation for survivors and their families. I hope you find inspiration, joy and hope in reading it.  A suggestion: copy and post it so you can say it for yourself every day or at least a couple days every week.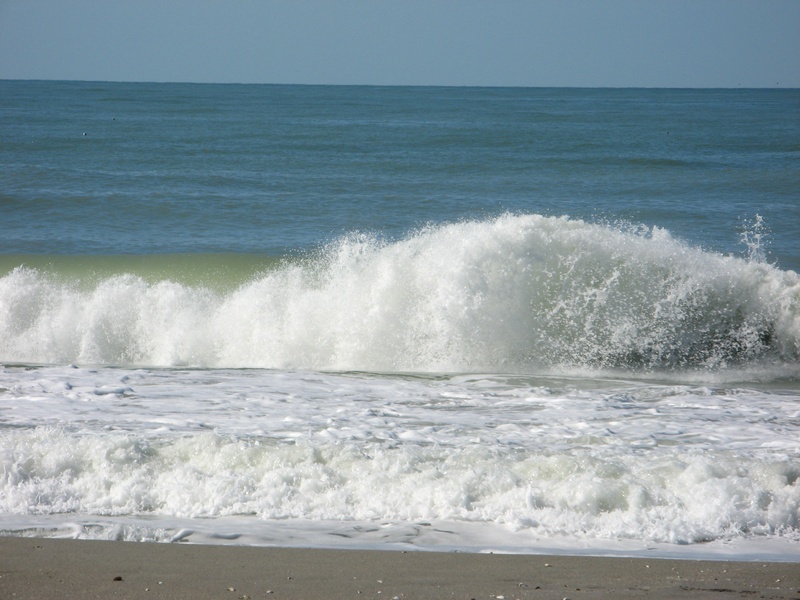 Photo Credit: Louise Mathewson 
Loving Kindness Meditation
for Survivors of Brain Injury
May I regain health after suffering a trauma.
May I be safe wherever I am in the world.
May I live at ease with my new transforming self.
May I always find my way on the new roads I travel.
May I find balance to calm my nervous system.
May I make peace with the critic in my mind.
May I find sparks to light my memory.
May I find the stars that guide me in the dark of night.
May I find lighthouses and be calm in a storm of grief.
May I find wonder to guide me on my new journey.
In honor of Brain Injury Awareness month, I offer this poem to care-givers, professionals, and those with Brain Injuries for what those with Brain Injuries have added to life to make our world a better place. (Go to my website's Home page to hear me read the poem aloud.)

Blessings For Survivors of Brain Injuries
Blessings for offering another version of life,
not Hollywood's.
Blessings for undertaking rough terrain
with few signposts warning of danger.
Blessings as you travel a jungle of primal emotions
and remain in love with life.
Blessings for teaching others how to accept help for even the most basic things,
like walking, finding a word or planning a day.
Blessings for looking people in the eye and holding your head high,
in spite of your shattered confidence.
Blessings for picking up the pieces of your old self
and showing how to create a new life.
Blessings for offering a map
for others to use to explore their own inner landscape.
 Blessings for receiving help from family and friends
  so they can experience the gift of giving.
Blessings on you for learning a new dance
and singing a new song.
Blessings! 
Now, write your own blessing for care-givers, professionals who have helped, and/or for yourself.   
It's a special day today, 1/22/13!  It is now ten years after a day that changed my life in ways I could never have imagined, even if I used all my psychic intuition. The date held a kind of message, like getting ready for take off.  1, 22, 3 - you can imagine what numerologists might have to say about a sequence of numbers like that!
Every January for the last few years we have come to Siesta Key and stayed in a condo right on the ocean, where every day I got to walk the shores of the ocean, while letting the waves play with my feet!   Oh the joy, on a sunny day, getting to feel the medicine of the ocean right on my body, as every so often, a wave jumps up on my calves like an eager puppy!
In past years, I have often felt like I hadn't earned this treat. But this year, I had an epiphany as I reflected that a special anniversary date was on the horizon for me, with all the color of a glorious sunset. This year, in the two weeks before, I felt an incredible joy and gratefulness that we get to celebrate every year with the ocean at our sides, that I came back to life, in a sense resurrected, after being so close to death.
So this year, I plan to celebrate that after being so near death, I am alive, able to enjoy my two wonderful little grandsons, watch my children continue to grow in adulthood, and age with my husband at my side while enjoying life, the ocean, writing, and meeting new people!! And I have a new book out, a memoir in poetry, "A Life Interrupted: Living with Brain Injury!"  I never planned to write a book, but then, I didn't plan on a traumatic brain injury either.
However, a couple days ago, forgetting that today was THE day, I woke with a feeling of lead in my veins.   My arms, legs and body felt very heavy, reminiscent of the waves of depression that are often part of my healing journey.  At first, I was confused, because I didn't feel sad at all.
Then I asked, "what's the date?"   I was a little worried that I had missed my anniversary. When I realized the anniversary was still two days off, I knew my body was remembering the trauma.  A few tears clouded my eyes, but no rivers, as in years past.  Yes, a memory that will always be a part of my life, a memory that I do not wish to discard, but rather befriend and accept.  There are treasures in this experience that have changed my life hugely!   One of those treasures is that I now write poetry, and have a book.  I know that writing, especially poetry, which gets at the heart of an experience, healed my broken heart!
I bought this pin for my family, who suffered the most while I was in the peace of a coma.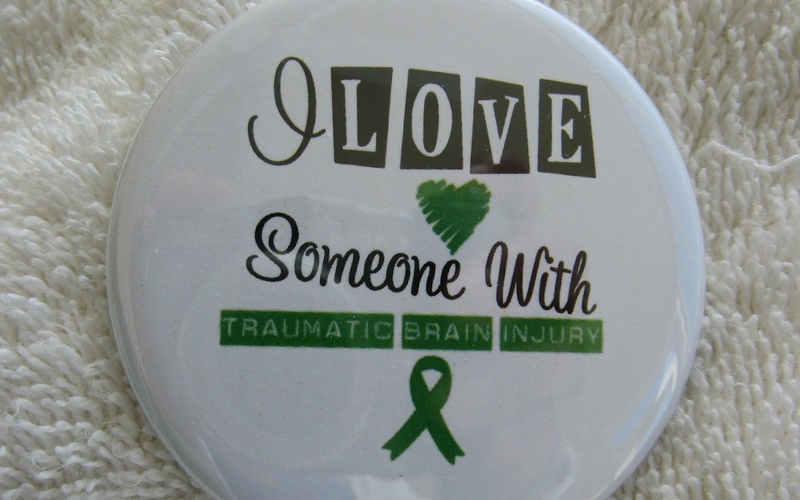 You can get one or similar ones at zazzle.com.
Yes!  I, too, love someone with a traumatic brain injury - ME!!!
Even though I may still have ups and downs, the ride is much less bumpy than it was in the early years.   I've worked hard to get here, and you can too! What is the hardest part for you? Have you tried writing?
Have you seen "The Life of Pi"?   WOW!!!   As I watched it, I thought "this is the story of my journey with grief after TBI!!"
"The Life of Pi" is a story about a boy who survives a disaster on the ocean and is thrown into an epic journey - alone, and at sea.  Life after TBI for me was, without a doubt, an epic journey, alone, into a frightening unknown world!  Pi loses his family in the shipwreck.  I lost the family of cells and neurons that made up who I thought I was. Gone, lost at sea, I wondered where the old me was, how was I going to survive without her gifts and abilities.  Some cells died, and some, I learned later, had become "couch potatoes" and just needed some oxygen, rebalancing, recuperation and exercise to get moving again.
For Pi, life was filled with the promise of a new life in America as he boarded a ship with his family. Suddenly, there was a storm and the ship was wrecked at sea.  My life was filled with the promise of a new life with an impending move.  Then suddenly, our car was wrecked on black ice in beautiful Boulder, CO. 
There he is alone, left to fend for himself on a life raft in the company ofa hyena, an orangutan, an injured zebra and a Bengal tiger. Two months after being released from the hospital, after moving to a new state, my husband went to work in downtown Chicago, 40 miles from where we lived.  I was left alone, with no practitioners, in a new neighborhood, to fend for myself in the company of primal energies and a damaged brain.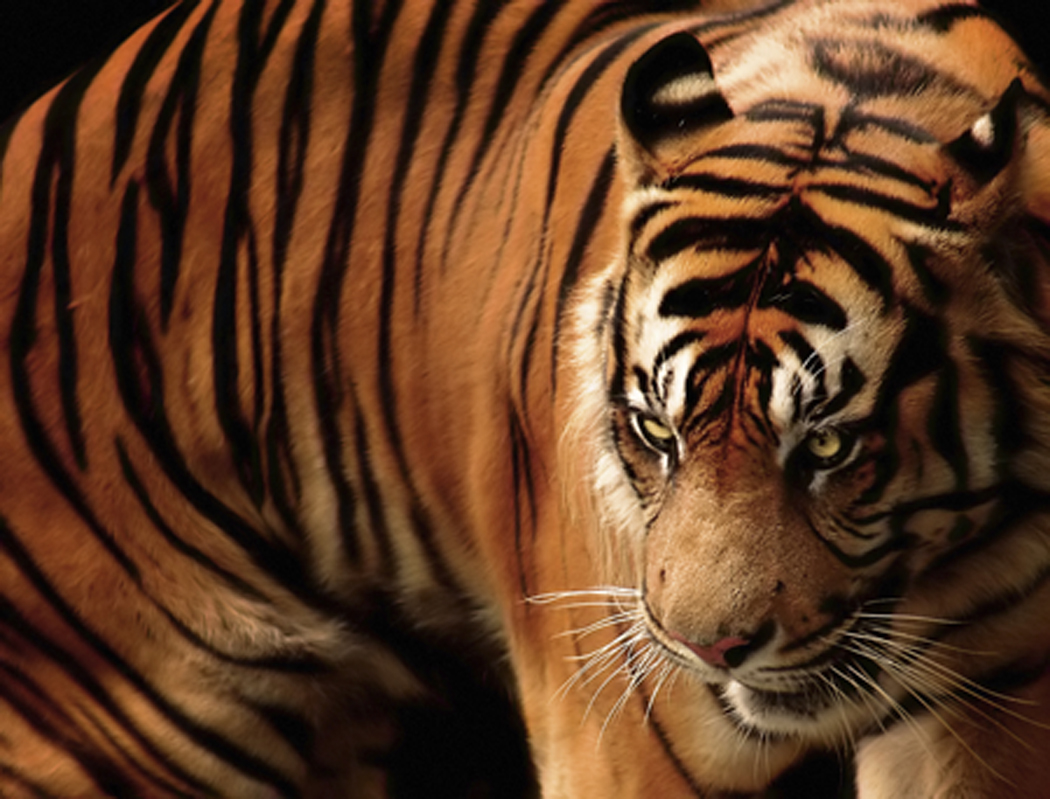 Pi's journey is a metaphor for my life following a traumatic brain injury in a car accident.  I felt so alone in an ocean of grief.  Inwardly, I battled a tiger of anger, a sea of fear, confusion and shame at what I could no longer do, with hyenas clawing the hurt, while I built a life raft.  That life raft was writing poetry.  Poetry allowed me to wade the waves of grief, but to contain them, like being in a boat on a big ocean.  Poetry helped me express deep sorrow over my losses.   Poetry is medicine because it gets to the heart of the matter.  The act of writing, where I could tell the story of my journey through a raging ocean of feelings was my lifeline.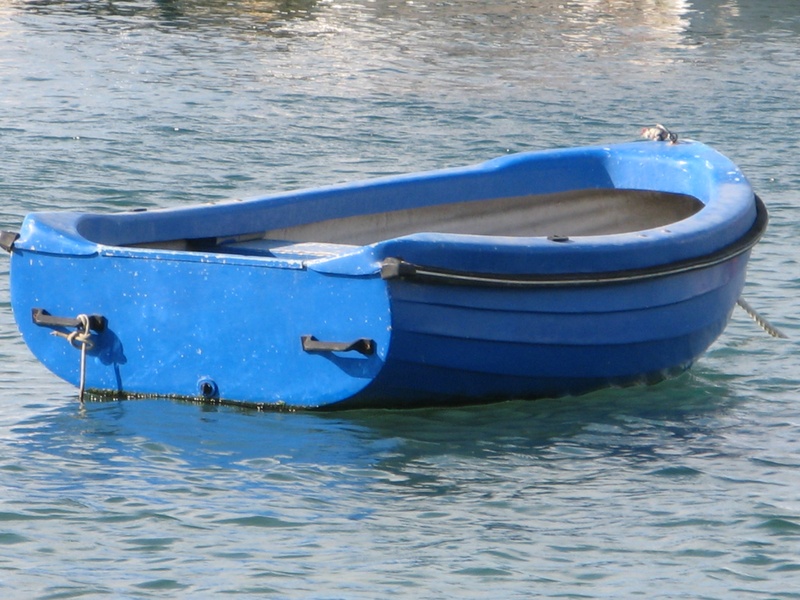 Like Pi I journeyed into myself, I journeyed to survive and ultimately, I journeyed with hope to a new faith in myself.
A traumatic brain injury is an experience that is hard to understand unlessyou have lived   inside it.  Many of us look so normal tooutsiders.  I had to come to terms with a new life, inside an injuredbrain. This new life was not in my plans. My dreams had not included losing myexcellent memory, losing my planning, organization, motivation and initiation,also known as executive skills,  or losing my ability to think, and process auditory and visual information. And unbelievable fatigue to go along with big losses!
Thrown into a journey of epic proportions that interrupted my life, I found life with a new me, one composed of the essence of the old me, with variations on the original score.  At the end of the journey, like Pi, I found myself.  And I like her!  
"The Life of PI!"  is a movie that can teach us all, about survival through the hardest of times. 
Unable to get myself to write two years after the accident, even after some healing had happened, really scared me.  I knew writing would help in healing and I had been published several times before the accident.  I began to wonder if terror was locked in the vault of my being.  
As I thought it over, I realized I had no key to unlock the door to whatever feelings lurked inside me. I also knew there was no way to learn what messages they might hold for me, unless I found a way to get behind that door.  One day I saw an ad in a writing newsletter for a writing mentor and I began to have hope.  Having someone by my side as I opened the door to grief over what I had lost and how my life had been changed might be my way back to the light.   
Once I opened the door, with her help, I saw a monster that, if let out of the cage, would swallow me up whole and I would die.  The loss of the self that I had grown to know over 55 years was huge.  What I thought I could do, my dreams, energy, memories, were gone or filled with holes.  I was no longer able to depend on myself the way I had. I had to depend on others to get me through sometimes simple daily things, like how to get to the grocery store, where things were in the kitchen, how to write a check, how to make change, and talk to servicemen on the phone.  
The list of things I couldn't do by myself any more was endless.  Grief about the losses of cognition from my brain injury felt very deep, almost like an ocean.   I couldn't think on my feet because my processor was so freakin' slow, I could hardly process information as people spoke, especially abstract concepts.  I was lost in a big, wide, scary world, where people thought I looked and sounded just fine.
I was so humiliated and embarrassed. I didn't understand that relearning things would be so difficult, take so long, and then could be forgotten in an instant. It made me so angry. I got so frustrated that I couldn't remember how to change the vacuum bag.  My solution was to not vacuum.  Then I didn't have to face how it felt to not remember how to do something I had done for years and taught my kids how to do. I lived in such deep shame, that no one even knew about - shame because I couldn't function the way I had, the way everyone else did.
I couldn't find words to tell about the monster of grief that now lived in my life.  Often, I would be feeling OK, until I would suddenly start to sob.   I would wonder what triggered my tears, be so confused about who this person living inside me was, and wonder if I would ever get over it.  
As I healed, I re-learned to use the computer, and was able to sit longer at the desk.  I began to do some research. Gradually I found books, information online, all of which helped me begin to understand more about what I was feeling, the significance of the losses.
Chronic grief, grief that might not ever leave me, had become my constant companion.   I felt like I lived in a dark cloud that I dare not tell people about.  A psychiatrist, who had worked at the Centre for Neuroskills in CA, a highly regarded institute for brain injuries, explained to me that the injury would bring up and exaggerate old grief even though I had worked on it.  
Ah, I was being given an opportunity to re-examine the past once again!  I was so NOT excited about going over those old traumas I thought I had worked so hard to excise from my being.  I just wanted to get on with life and live my dreams.   How to get back to life was a question that plagued me.
Writing became my lifeline!   It helped me get the grief out of my head and onto paper, using metaphors and images that broke open the feelings so I could find the treasure that this trauma held for me.  Transformation began for me, through the medicine of writng poetry!!
OK, I'm gonna start a blog. I've thought so long and hard about doing this.  Always the decision came back to - Yikes! I'll be soooo out of the closet - there's a story about me being born in a closet - I'll get to that in another post. It's kind of like going on stage, in a virtual manner. There's another story about being on a stage when I was 5 - that's later too. I am an introvert of the highest order! However, I have a book coming out or maybe I have given birth to a book, yes, even in my 60's I can give birth. Who knew?!! And when one gives birth, the birth deserves to be acknowledged, celebrated in some way, cuddled and coddled, presented to the world, nourished and nurtured, you know what I mean. So here I am!  
A Life Interrupted: Living with Brain Injury, published by the amazing and wonderful Peggy Elam, founder of Pearlsong Press, is now a present to the world!  It was an early birth, since it was actually due October 1, 2012, but came out September 16th.
Here's how it all started....I was in a car accident, hit my head hard on the dashboard, which translated into a severe brain injury, traumatic for my family who weren't sure if I would make it or be a vegetable.  Traumatic for me when I realized that I had lost something very precious.  I was peacefully asleep in a coma for 5 days and in the ICU about 10 days.  A year and a half later, as I recuperated and could actually write more than chicken-scratch, I found I just couldn't get myelf to write.  I just couldn't pick up a pen and even pour an alphabet soup of words onto the page. 
Not being able to write terrified me.  I had been writing for a few years before the accident and knew that it had really helped me to write my thoughts and feelings out on paper, get them out of my head. I was told I wrote poetically, though I didn't have a clue what that meant.  It sounded nice though.  Not too long after discovering that I couldn't make myself sit down and write, I found a writing mentor who was eager to work with a TBI survivor who used to write, but suddenly couldn't get herself to pick up a pen.  (If you want a writing mentor, just email me and I will be happy to share her contact info with you.)
I think I was afraid if I started writing I'd be washed over by waves of sadness and swallowed in the mouth of grief.  I'd be swept out to the ocean and lost at sea. She gave me an assignment to write from stems starting with "I reclaim."  I was to use images, describe sensory details as best I could, use childhood memories, (dolls were big for me as a kid, remember Tiny Tears?) and by all means use metaphors if they came to me.  I started writing "I reclaim...." I misunderstood her directions, one of those brain injury moments, and started writing poems. First, I wrote about things in my childhood, then the accident began to take over my writing self more and more. Writing poems became how I listened to myself and how I got what was in my heart out onto a page.  And in talking with my mentor, I found someone who heard my pain and was a witness to my feelings about losing a huge part of myself.   And so began my journey to this book, " A Life Interrupted: Living with Brain Injury."
/