Shopping Cart
Your Cart is Empty
There was an error with PayPal
Click here to try again
Thank you for your business!
You should be receiving an order confirmation from Paypal shortly.
Exit Shopping Cart
Louise Mathewson - Author & Poet
"A gem is not polished without friction, nor a man perfected without trials." Proverb
I woke up with one of those icky moods that perhaps only a person with a brain injury and PTSD knows - dark, meaningless, I didn't want to talk to anyone, didn't want to hear a male voice, (I live with my husband, so that's a problem, right there), I just wanted to be alone. I thought about going to yoga, but the appliance repair man was on his way and my husband was in a meeting in his home office, so I was tied to the inside.
After the repairman left, I decided to take my phone (with piano music-my absolute favorite sound EVER!-on Pandora) and go for a walk by the ocean where the best kind of ions, (negative) float in the air. I hoped those negative ions would help my brain.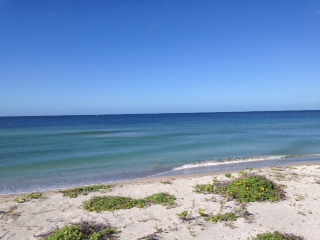 Photo Credit: Louise Mathewson
I wasn't sure if it was my injured brain causing trouble, or my adrenals, (somewhat fatigued by too much stress), or my auto-immune thyroiditis, otherwise known as Hashimoto's, the fall season with less light, our condo being in a state of dis-ease from renovation work, the Cubs losing twice to the Mets, or that I am still grieving over leaving the Midwest, the Heartland, where I've lived most of my 68 years. Or it could be all of those ganging up on my brain creating havoc. I just knew I needed to get out, away from this space.
On my walk, I thought about a book, This I Know: Notes on Unraveling the Heart  by Susannah Conway, I read a few years ago, when moods were at their worst. Back then I couldn't get myself to go outside and take a walk, which I knew was a healthy thing to do. Susannah wrote about taking photographs outside during her journey with grief. Back then I was game for anything that might help a mood take the high-speed train to Mexico! And I knew I liked to take pictures. So out I went, and I have to say, it was magic, pure magic!!!
I now had a new way to deal with moods that actually worked! Supplements, writing, meditation, changing my thoughts or neuroplasticity, (screw it!) do not yet work for MY limbic system with low blood flow. That means too little oxygen and nutrition get to my limbic system (basal ganglia, thalamus, cingulate, insula.) (I didn't make this up, it's from a neuropsychiatrist's report of spect-imaging of my injured brain.) Believe me, I've done enough research I could write a book, but my memory and cognition, (damaged areas of my brain) aren't in good working shape for composing all this abstract stuff into a coherent - aww, just too much work and stress!
On my mission, a walk to the beach, I saw 3 ibis' on a fence by the inlet, and took my first "snap" of the day!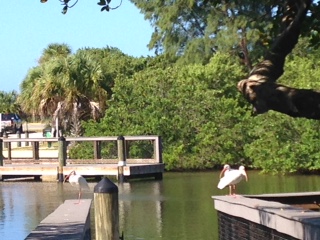 Photo Credit: Louise Mathewson
With my new-found eye I kept my eye out for more to shoot. I got to the beach and the water was beautiful on a windy day (an easterly wind makes the ocean calm - I note the diametrical opposition in nature.) I had to take a video '20 seconds of gulf peace', followed by shots of the beautiful blue, then a shot of yellow daisies at the edge of where the ocean 'took a bite out of the shore' and where an egret stood on the water's edge.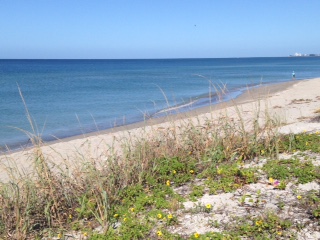 Photo Credit: Louise Mathewson
Next, two deserted beach chairs, blue and green, grabbed my attention, followed by yellow daises with a water background. A little farther on more yellow daisies, rosy-mauve flowers and tall grasses with the ocean blue in the background, and I'm in heaven, totally distracted away from my dark mood! Being out in nature taking pictures, being able to focus on something besides my uncomfortable 'safe place' (aka home) helped my mood lessen. What a gift from Susannah's book!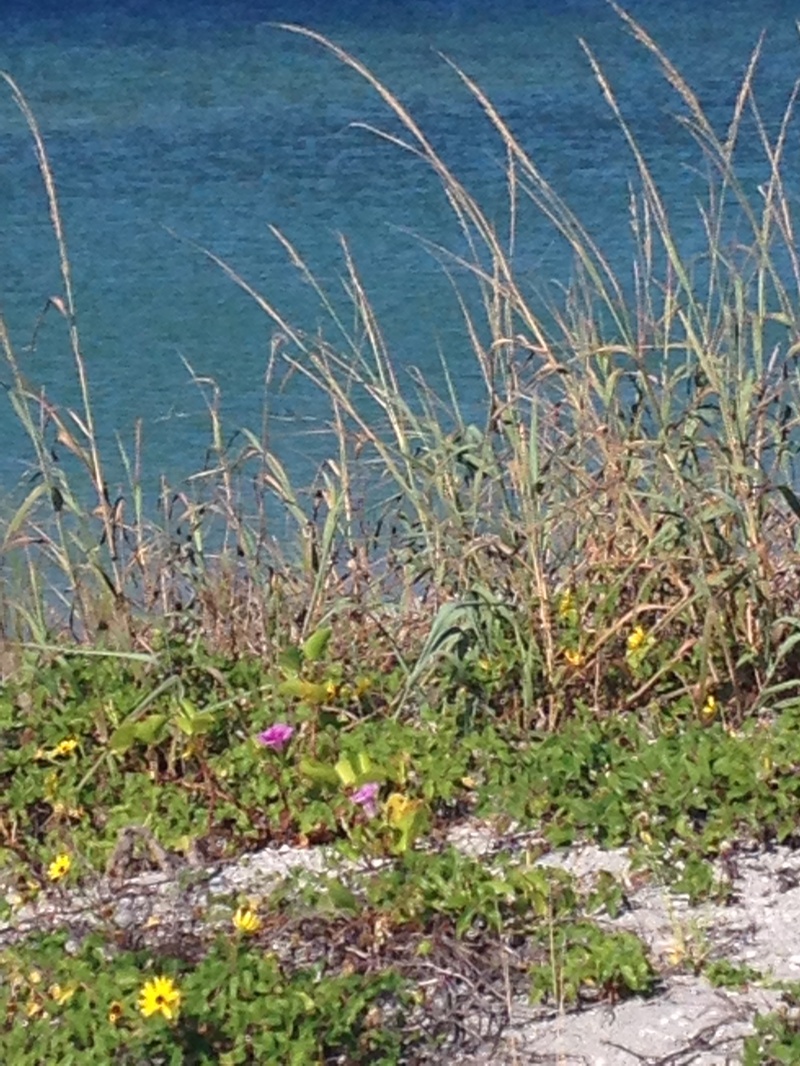 Photo Credit: Louise Mathewson
On my way back, I saw an artist painting hummingbirds, and her version of magical fish. They look a little like lion-fish, mostly blues, with some orange, yellow, and red on the hummer's chest, just gorgeous!  We talked enough for me to learn she is an environmental activist, who is down taking care of her elderly parents. She comes to the beach every day to walk or do her art. She wants to write something poetic about how we are harming the ocean, to go along with the creations that she sells.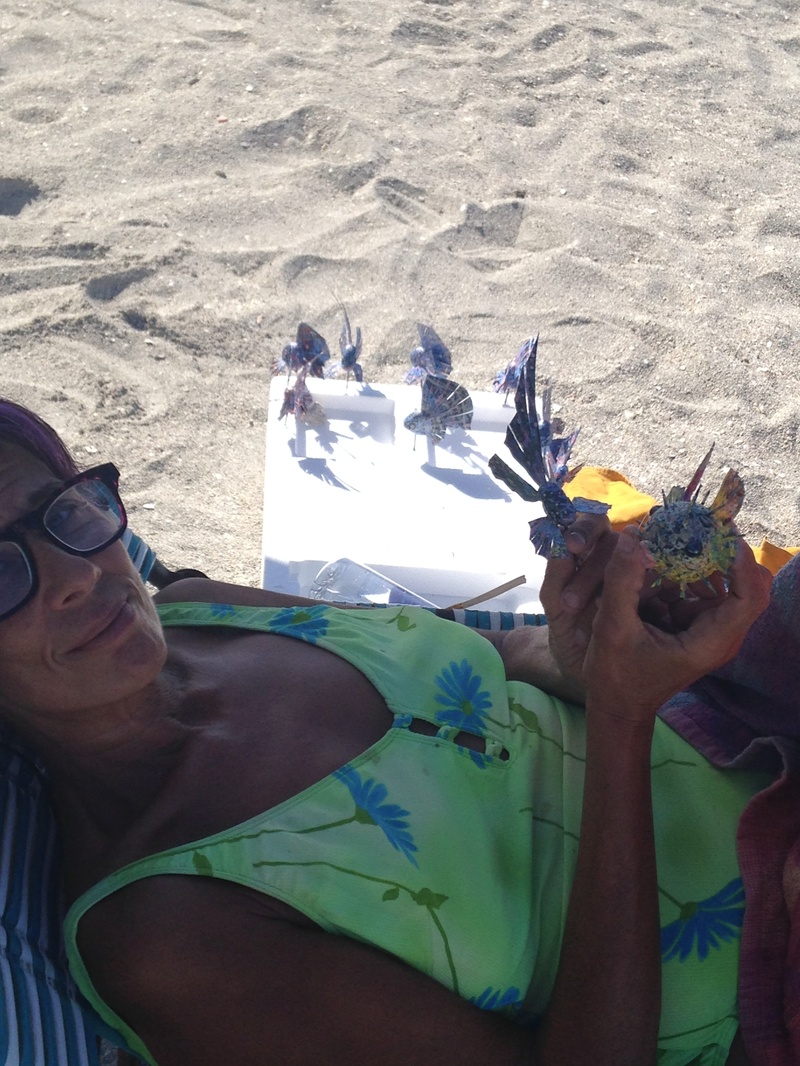 Photo Credit: Louise Mathewson
I made a connection with an artist on the beach. Connecting with someone with similar interests also brought me joy!
This morning FB friends and a left-brained actuary just weren't helping my mood - I needed the real thing, nature and connection. Through taking pictures as I walked the beach, I improved my dark, unfriendly mood. It didn't heal the adrenal issues I have, my auto-immune Hashimoto's or the brain injury, but I felt better and I could write this!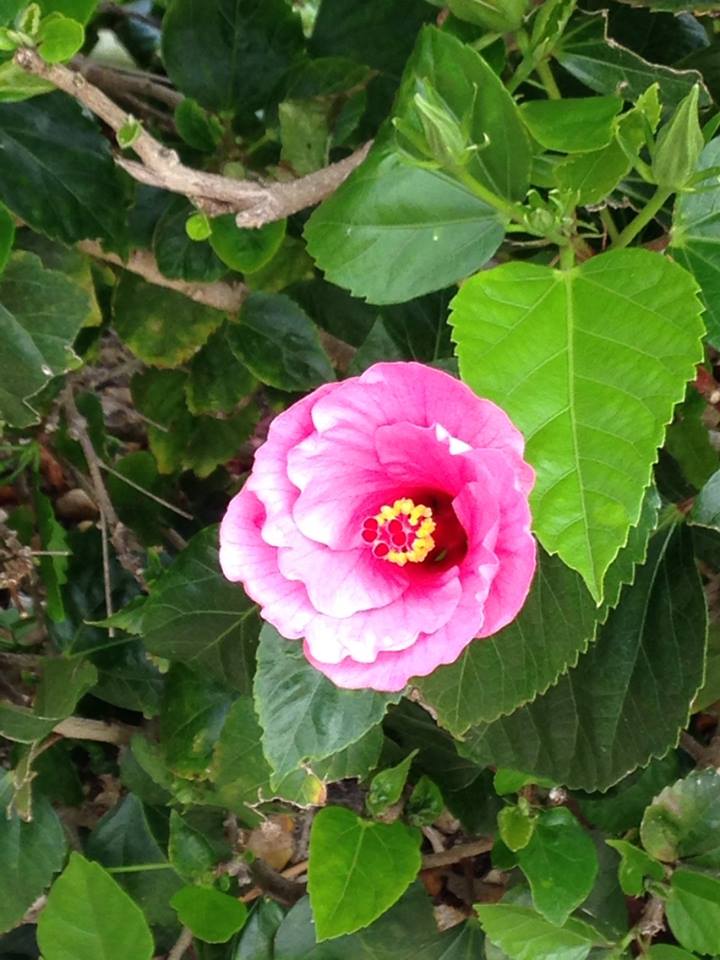 Photo Credit: Louise Mathewson
I opened my "Ennea Thought of the Day" and found a pleasant surprise today! In case you are interested, https://www.enneagraminstitute.com" target="_blank">Enneagram is a system of spiritual psychology based on an ancient Sufi typology of nine personality types that help in understanding oneself. If you want to know more about it, a link is above or you can search for a teacher in your area.
Those who know me well know I love learning about all things psychology, psyche, and spirit. I have studied the enneagram informally for many years, starting when I went to Loyola in Chicago. I was introduced to it there in my Master's program on spirituality. I've always wanted to learn more about me, so I can better understand myself. And, so I can give myself some compassion as I travel through this thing called life.  
Like most people I've had a few traumas, actually more than anyone should have. A trauma makes it hard for us to grow beyond survival mode, to fully become ourselves and to give back to the world. An injury to my brain was a trauma that took me to a place of grief that is almost beyond words.
When I was still in a coma, my family was told by the neuro nurse that when I came out of the coma, my idiosyncrasies would be exaggerated. I wonder what they thought of that! On the https://www.enneagraminstitute.com" target="_blank">Enneagram, I am a six, so that means my fears were intensified, or magnified by that shock to my brain. Sometimes I feel like fear rules my life, and I don't like it one single bit! On the other hand, it helps me avoid dangerous situations and guides me in daily life.  And a healthy dose of fear can be a sign of great wisdom.
I am fascinated by this system developed so long ago by people who hadn't yet built skyscrapers or flown airplanes. They just ate, slept, hunted, and lived! Life was simple, so they had time to consider things of the spirit.
Today's "https://www.enneagraminstitute.com" target="_blank">Ennea thought" told me that Robert Kennedy, Tom Hanks, Julia Roberts and Princess Diana are also sixes! What delighted me is that I like these famous people, I mean really like them! I don't remember much about Robert Kennedy, since I was raising kids back when he was in the news. He must have liked children though, since he had so many. I share a love of children with Robert Kennedy.
Princess Diana was a model for me of battling her demons. And then she used the wisdom she gained from attending to her wounds. She showed compassion for the aged, for children and for those injured by land-mines. There is no queston how much Diana loved her boys! She also visited Mother Teresa's hospice for the sick and dying, which gave me a sense of awe. I'm not sure I could have done that.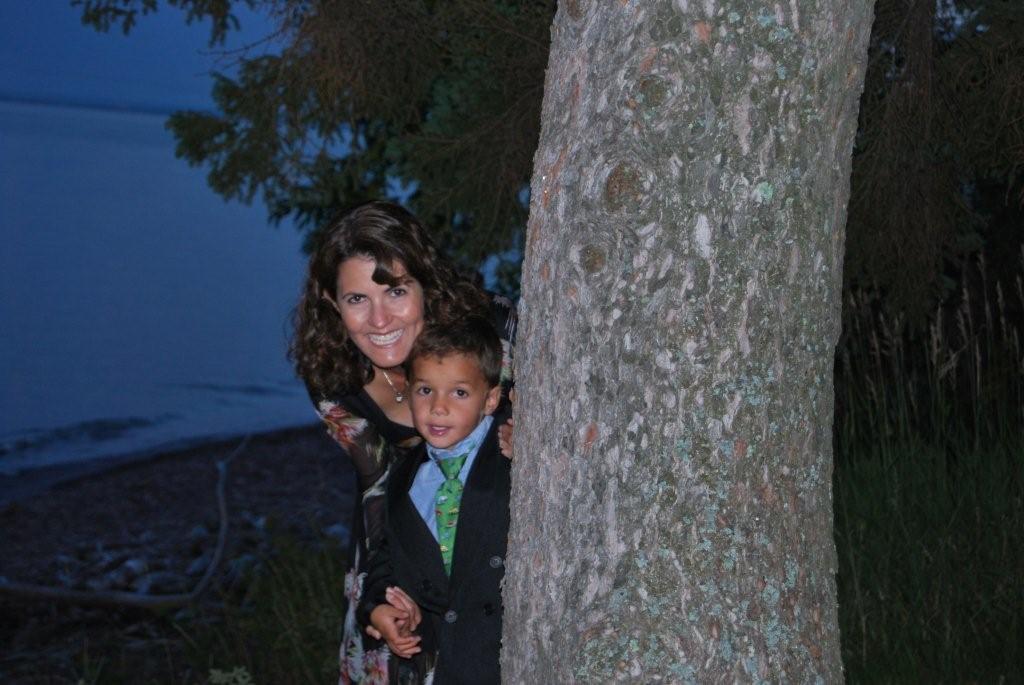 Photo credit: Louise Mathewson  (This picture reminds me of Diana's love for her boys!)
Tom Hanks and Julia Roberts are actors that I just love! I really respect them for their acting skills, for their love of family, and for their commitment to our world and its people. They are both deeply spiritual people. I love when they smile I can see a twinkle in their eyes. They both have a delightful sense of humor, smile easily and  they protect their privacy.  Neither has a huge ego, like someone I know. In spite of their fears, they have built amazing careers in the movies.
How do you handle fear in your life? One of these days, I'll tell you how I handle mine.
In honor of Brain Injury Awareness month, I offer this poem to care-givers, professionals, and those with Brain Injuries for what those with Brain Injuries have added to life to make our world a better place. (Go to my website's Home page to hear me read the poem aloud.)

Blessings For Survivors of Brain Injuries
Blessings for offering another version of life,
not Hollywood's.
Blessings for undertaking rough terrain
with few signposts warning of danger.
Blessings as you travel a jungle of primal emotions
and remain in love with life.
Blessings for teaching others how to accept help for even the most basic things,
like walking, finding a word or planning a day.
Blessings for looking people in the eye and holding your head high,
in spite of your shattered confidence.
Blessings for picking up the pieces of your old self
and showing how to create a new life.
Blessings for offering a map
for others to use to explore their own inner landscape.
 Blessings for receiving help from family and friends
  so they can experience the gift of giving.
Blessings on you for learning a new dance
and singing a new song.
Blessings! 
Now, write your own blessing for care-givers, professionals who have helped, and/or for yourself.   
/